Emergency Power Wiring Kit (for 2016-2019 Chevrolet Volt)
EVEX‑1000V/EVEX‑1001V/EVEX‑1002V
Frequently Asked Questions | Brochure (PDF)
Purchase
Item
Number
Item
Description
Purchase
EVEX-1000V
2016-2019 Chevrolet Volt 1000W Emergency Back-up Power Wiring Kit
$189.00 Buy Now
EVEX-1001V
2016-2019 Chevrolet Volt 1000W Emergency Back-up Power Wiring Kit, bundled with a 1000W pure sinewave inverter with 2000W surge.
$444.00 Buy Now
EVEX-1002V
2016-2019 Chevrolet Volt 1000W Emergency Back-up Power Wiring Kit, bundled with a 1500W pure sinewave inverter with 3000W surge.
$444.00 Buy Now
EVEX-1003V
2016-2019 Chevrolet Volt 1000W Emergency Back-up Power Wiring Kit, bundled with a 1500W pure sinewave inverter with 3000W surge and a remote switch.
$474.00 Buy Now
Features
Detailed Instructions (with photos) Included
Utilizes 12V accessory power system of the Volt
Provides backup power without needing to run the Volt's gasoline engine*
Includes all hardware and accessories designed specifically for the Volt
No drilling or other modifications to the Volt are needed
Quick disconnect system allows for easy connection of inverter
Maximum continuous power supported: 1000W with 3000W surge
Installation Time: 30-45 minutes
Description
The EVEX-1000V and EVEX-1001V are do-it-yourself** wiring kits to provide emergency backup power from your Chevrolet Volt. The kits are custom-designed for the Volt (model years 2016-2019), to allow for a hidden installation with power connector access through the storage compartment on the left-side of the hatch storage area.
The kit includes a fuse holder with fuse, heavy duty wires cut to length with pre-installed wire terminals, and a heavy duty connector set to allow quick connections to the inverter of your choice as needed.
The EVEX-1000V, is designed for a maximum continuous power of 1000W with 3000W surge. The EVEX-1001V is the same wiring kit bundled with a 1000W pure sinewave inverter. These power ratings are designed to work within the limits of the Volt's 12V power electronics design.
Reviews/Testimonials
"I installed both kits today in our 2016 Gen 2 Volts. The directions were superb. The heavy duty quality of the kit (gauge of wires, fuse etc.) is evident. Both units work great. I would recommend to anyone that wants a low cost, permanent safe capability of generating backup power from a battery pack the same size as a Tesla Powerwall - but which is also backed up by a strong generator, and just happens to be sitting in the driveway. With two of these, we have 28kWh of reserve power, then the gas engines to act as generators."
-- Marcus M., Virginia
More Questions? Browse our EVEX‑1000V/EVEX‑1001V FAQ
Do you have kits available for inverters larger than 1000W?
I want to run a fridge or freezer off my vehicle, will this kit work?
Will this void all or part of my vehicle's warranty?
Do you have wiring kits available for other vehicles?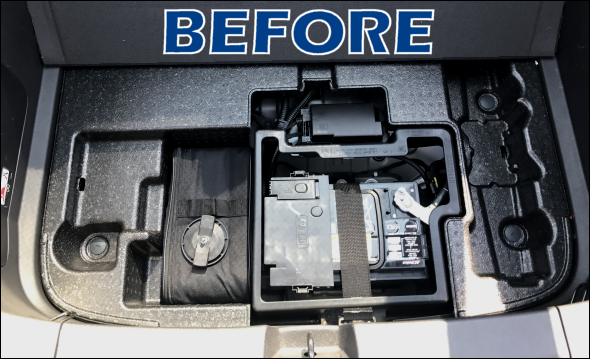 EVEX‑1000V/EVEX‑1001V Frequently Asked Questions
Do you have kits available for inverters larger than 1000W?
At this time, we have chosen to only offer a wiring kit that supports up to 1000W continuous power. While the wiring of the kit we provide can handle 1500W, the 1000W limitation is to ensure that the power draw from the inverter will work properly with the built-in power electronics of the 2016-2019 Chevrolet Volt. Larger systems, combined with other electronics that are always running in your vehicle, may draw more total power than the Volt can provide, ultimately resulting in a dead battery or damaged electronics within your vehicle. While a 1500W inverter may be used to help start appliances with higher start-up surge power needs, usage should be monitored to ensure continuous loads do not exceed 1000W.
I want to run a fridge or freezer off my vehicle, will this kit work?
The compressor of a refrigerator requires an initial starting current that is much greater than the current it will use once the compressor is running. Refrigerators are quite varied in size and energy efficiency, and as a result, this starting current (also known as "surge current" or "surge power") can vary greatly, even among similarly sized refrigerators. The ability for an inverter to provide this surge current can also vary greatly from product to product. As a result, it is often difficult to know definitively if an appliance can be operated from a given inverter without simply trying it.
This kit has successfully powered a full-sized kitchen refrigerator having a nameplate rated current draw of 3.5 amps at 115VAC. The methodology to label the power consumption of the appliance, however, also varies greatly. This test was done using just a 1000W pure sine wave inverter, with a rated 2000W surge capability.
As a general rule of thumb, people suggest measuring the continuous power of a fridge when the compressor is running, using a Kill-a-Watt power meter. An inverter that can continuously supply 3 to 4 times this measured power is typically sufficient to handle the initial starting current of the refrigerator's compressor. However, as stated above, the only real way to know is to simply try it with the inverter you plan to use.
Will this void all or part of my vehicle's warranty?
There have been various discussions and posts on forums about whether or not a wiring modification such as this would void all or part of your vehicle's warranty.
The wiring kit only makes a connection to the Volt's 12 volt battery terminals. As a result, it would seem reasonable to conclude that any warranty issues as a result of this installation, if any, would be limited to the 12 volt system.
There is also the Magnuson-Moss Warranty Act of 1975 that states a dealer must prove that after-market equipment caused the need for repairs before it can deny warranty coverage. (See Edmunds.com article:
What Voids your Vehicle's Warranty?
)
This would suggest that only a small portion of your warranty could be voided, and only if the dealer can show it was this wiring kit that caused the need for repairs.
However, EV Extend cannot make any definitive claims as to whether or not installing this kit will void your warranty.
Do you have wiring kits available for other vehicles?
Yes! In addition to this kit for the 2016-2019 (Gen 2) Chevrolet Volt, we also have kits for the following vehicles:
If you would like to be notified of when a particular vehicle has a kit available, please
contact us
.
©2017-2023 EV Extend. All Rights Reserved.